Christian Education
Christian Education has always been a vital part of the life of this congregation as well as throughout the PC(USA). We strive to provide quality education to all ages, from preschool through adult.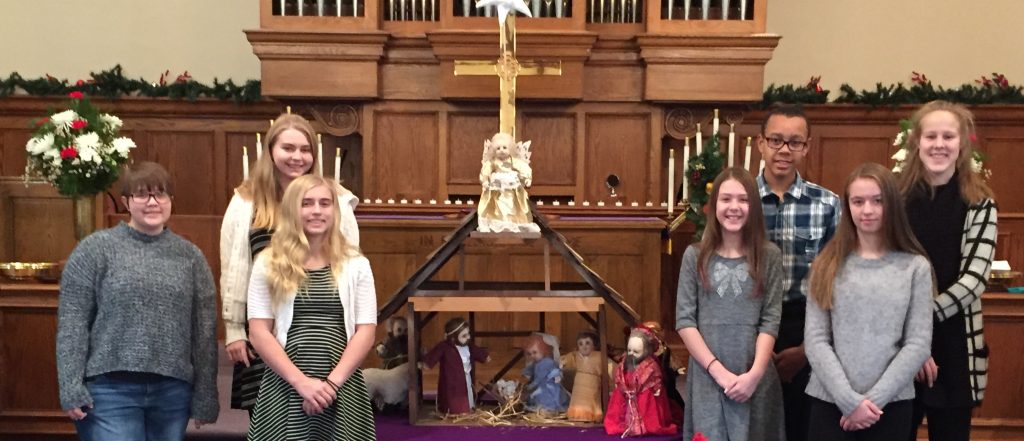 Preschool
Our Preschool children meet in a colorful, fun room with lots to do. We teach our littlest ones that above all, God loves them. Some of the greatest stories of the Bible are taught in a 3-year cycle. Every 3 to 5 years we look for a new curriculum to help keep things fresh for both the teachers and children.
Elementary
In our elementary grades, we follow the rotation model of teaching the Bible.  This method covers 10 units per year with 11 lessons provided per unit.  What this means is that for each unit we take 3 weeks to teach the story, while choosing from the 11 options provided. We try to use the different modalities of learning so that hopefully, each child will have at least one lesson that touches their best learning modality. We are in our 8th year and the kids really seem to enjoy it. Some of the workshops that we use fairly often are cooking, art, storytelling, games, and puppetry.  There are three shepherds who are in the classroom week after week with a different 'teacher' each Sunday.  The children have come to love and feel very comfortable with their shepherds.
Youth
Our Youth meet in their own classroom with two teachers.  The lessons for this group of kids are topics that they may be dealing with in their everyday lives, from friendship, to sports, to church, to who is God?  We also have a youth group that meets the second and fourth Sunday of each month along with youth from our neighbors at St. Andrew's Episcopal Church. This combined study has been a very positive experience for our two churches. 
Adult
Adult Education is very important to this congregation. We usually have two classes running concurrently. The two groups each approach their respective studies in a different way so that hopefully, there is something which will appeal to a variety of interests. One of our classes prefers to study lessons drawn from current events, but examined from a spiritually-based viewpoint. The other class follows a more structured lesson plan: they will focus on either a book or a specific Bible study. In this way, we hope to provide not only fellowship, but a welcoming and intellectually challenging study environment for anyone who would like to come.